We, at Quality Mold Inc, offer you quality American made injection molds. We have a demonstrated reputation for quality plastic injection mold making, and won't outsource your molds abroad like a significant number of toolmakers do today. They will be made here in our facility by our experienced staff with more than 50 years of experience or outsourced to nearby toolmakers where we can keep close controls on the procedure.
Our one-stop machine shop, we believe, is a standout amongst the most imperative factors that separates us from our competitors. Having everything under one roof is helpful in providing quicker lead times and keeping everything under our control.
Your mold will be outlined and manufacturer by skilled workers utilizing CAD/CAM programming, and CNC and EDM gear. Our extraordinary dedication guarantees that the plastic injection molds and our manufacturing will meet or surpass your prerequisites.
Moreover, as long as the mold stays with us, we will ensure that mold lasts for its expectancy. You will never observe a maintenance charge from us for your mold. As usual, there are certain rejections. The warranty excludes any electrical components or the fragile inserts unless due to workmanship, or mishandling of mold during the molding process is not covered.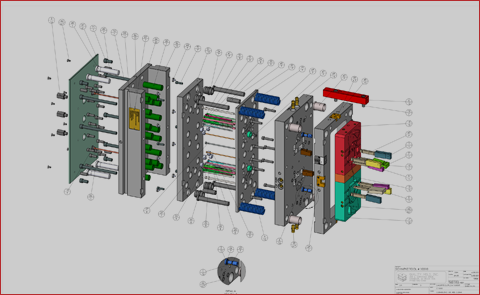 01) Cavities
02) Cores
03) Runners
04) Parting Line Surfaces
05) Ejection